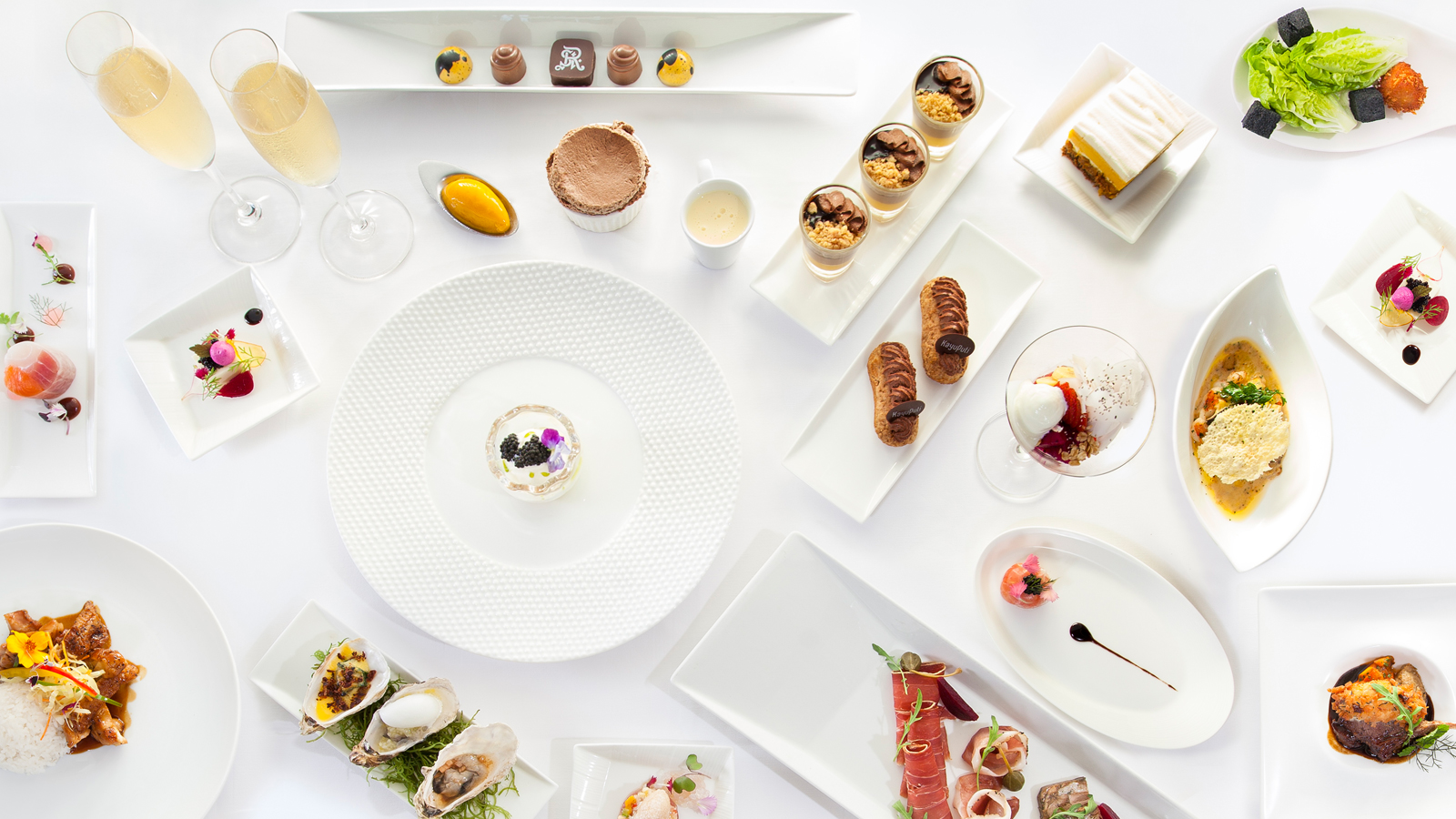 The Astor Diamond Champagne Sunday Brunch
Revered the world over by food connoisseurs, the multi award-winning Astor Diamond Champagne Brunch at Kayuputi is open from 12 to 3 PM every Sunday and offers guests an extraordinary, elegant gastronomic experience.
The Astor Diamond Champagne Brunch builds upon the stylish legacy of the Astor family, who created grandeur on a new scale with The St. Regis New York in 1904. The world famous hotel launched New York society into a new era of lavish and decadent afternoon teas and late night suppers.
Through its Astor Diamond Champagne Brunch experience, The St. Regis Bali Resort reinvents and redefines that luxury with the finest Asian-inspired haute cuisine, presented and served in a style unprecedented in opulence and exclusivity.
Pre-brunch, from 11 AM, guest are invited to the renowned Kayuputi Champagne Bar for endless pass-around canapés and a delectable selection of aperitifs, fine champagne, refreshing juices and mocktails and a selection of cocktails, including the famed St. Regis signature Bloody Mary. The brunch formally opens at noon with the cherished tradition of ceremonial sabrage, in which Chief Sommelier opens a champagne bottle with a saber.
Guests then take their seats to indulge in the handcrafted Kayuputi à la carte brunch menu, served course by course to the table and supplemented by a selection of delicious chef specialty pass-around plates.
Brunch Package: IDR 1,450,000 net per person
The Brunch Package includes a one-hour complimentary aperitif, champagne and juice selection at Kayuputi Champagne Bar from 11 AM to 12 PM, followed by brunch between 12 until 3 PM.
Beverage Package: IDR 1,450,000 net per person
The Beverage Package is an additional package to complement The Brunch Package and includes free flow champagne, a selection of premium red and white wines and cocktails from 12 till 3 PM.
This package also includes a variety of digestives, served from 2 to 3 PM at the Kayuputi Champagne Bar.
Members Dine More

Members and Silver Elite Members : 10% Discount
Gold Elite Members : 15% Discount
Platinum Elite and Platinum Premier Elite Members : 20% Discount
Pool and beach facilities are reserved for hotel guests only.


Brunch Menu »

Beverage Menu »
Lunch

12:00 noon - 05:00 pm

Dinner

6:30 pm - 11:00 pm

Astor Diamond Champagne Brunch

12:00 - 03:00 pm (on Sundays)